Take These Five Steps after a Hawaii Car Accident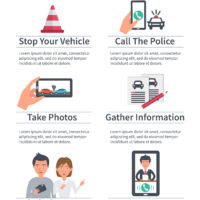 Being involved in a motor vehicle accident can be one of the scariest and most violent incidents you experience. It can be hard to think straight and figure out what you should do in the immediate aftermath of an accident to ensure that your claims based on the accident are preserved. Read on to learn the five critical steps you should take after you're involved in a car accident in Hawaii.
Check for injuries, and, if necessary, call for emergency medical care
Before anything else, make sure that you're ok and that your passengers and the other driver are not seriously injured. Have someone call 911 if there are serious injuries at the scene of the crash. Move your car out of the way of traffic if possible, both to allow cars to pass and to get yourself out of harm's way.
      2. Exchange information
Be sure to obtain the name, address, and insurance information of the other driver involved in the crash, as well as the license plate number of the other car involved. Never assume that the other driver will contact their insurer to report the accident; be prepared to do so yourself.
      3. Take photos and speak with witnesses
Photographic evidence of the position of the cars at the time of the collision, as well as the damage to each vehicle, can be invaluable during accident reconstruction efforts. Take as many photos as you can, ensuring that you stay safely out of the way of traffic while doing so. Additionally, speak to witnesses who may have seen the accident, and obtain their contact information. Should you file a lawsuit or need support for a claim filed with an insurer, you may need witnesses' help in the form of testimony about what they saw.
     4. Seek medical care 
You may believe that you avoided receiving injuries in the accident, only to realize days later that you did, in fact, suffer physical harm in the crash. Some injuries resulting from car accidents take several days to display symptoms, and others may present with symptoms that you don't realize are related to your accident. It is always wise to see your doctor after a crash to ensure that you did not receive injuries you can't identify, and to begin care for those injuries as soon as possible.
    5. Contact an attorney
Motor vehicle accidents can leave you with major expenses, including time off work, thousands of dollars in medical bills, and car repair costs. Obtaining the full value of your expenses from an insurer can be a major challenge, as insurance companies are highly experienced at negotiating these claims to their advantage and profit. A personal injury lawyer will fight on your behalf to help you obtain the full value of your expenses, so that you can focus on recovering from your injuries.
If you've been hurt in a motor vehicle accident in Hilo, contact the dedicated and seasoned Puna auto accident lawyer Louis Mendonca for a consultation on your case, at 808-961-6690.